Frank O'Hara in Kiev, Ukraine, June, 2002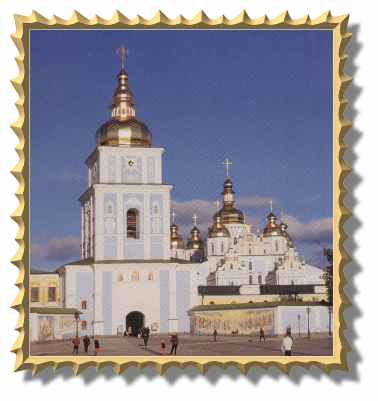 St. Michael's Cathedral
I was very pleasantly surprised at what a fine city Kiev is. (Kyiv is how the locals spell it. They pronounce it something like Kief.)
My client developed a website for children of 5 to 8 years of age that they wanted to adapt to the North American market. They had the good sense or good luck (take your pick) to engage me to give them some advice. They treated me very well and I had a very enjoyable time for my three week assignment.
My first morning I had an interesting experience making coffee. The apartment had a kettle, much the same as the one I have at home. The cord was rather short though, so I put the base of the kettle onto a stove burner and plugged it into the only outlet in the kitchen. I happened to notice that the large plug for the stove was not engaged so I pushed it in and went into the living room to catch the BBC news. Minutes later I smelled something unpleasant. That's right. It was the base for the kettle with flames shooting out. I pulled the offending stove plug and was able to lift the kettle off because it had separated from the base. Of course, the kettle base merrily continued to burn. I found a lid for a large pot and damped the stinky flames. It turned out that only one burner worked, the one where I chose to rest the kettle. To turn on the one burner that worked, one simply plugged in the stove. I managed to spoon out most of the plastic from the base of the kettle by alternately plugging the stove in, letting the plastic burn a bit to loosen it up and then spooning out the plastic, then damping the flame before it got to ambitious. Fortunately, the water had boiled enough to make coffee. All's well that ends well - a good cup of coffee.
They moved me to a new apartment where I had no such interesting adventures and had the advantage of a landlady who cleaned the place thoroughly every second day, including my breakfast dishes, laundry and changing my sheets. I appreciate clean freaks - in small doses.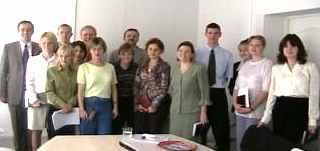 I met quite a few young people in Ukraine and they are certainly going to help this country to go far and in a hurry. Elena, my principal contact, was 22 years of age, fluently bilingual in Ukrainian and Russian, speaks, reads and writes English almost without fault and also knows German quite well and some French. She graduated this year from a five year university Business program. A real powerhouse and attractive too. As a matter of fact the Kiev young women more than hold their own against those in any other place I have been. I assume you will appreciate that my word is to be taken on this without question as I am more than somewhat of an expert on the subject. I suppose the young men are handsome too. This is a picture of the attendees at a class I gave in Small Business Management.
I went with my young guide and workmate, Elena, to the post office to send off some computer odds and ends to the young woman who was my interpreter in Russia a couple of years ago. Apparently, such items (obsolete computer cards) have to be passed first by Ukrainian customs. To me this is very strange because I know customs to be concerned about what enters the country but not what leaves it. Another leftover, I guess, from Soviet times. I gave up on that. The following week we managed to give the package to a person in the company who was going to Moscow. He mailed the parcel from there to Izevsk - about 1000 kms east of Moscow.
On my first weekend, Elena took me on a long walk around downtown Kiev. It is really a very beautiful city with an amazing number of large and attractive parks and beautiful 19th century "Ukrainian Baroque" buildings that are freshly painted in exotic colours. The city is known particularly for its many churches with golden domes and its proliferation of trees. The golden domes are startlingly beautiful on a sunny day. On the Sunday evening another young attractive woman, Tsenya, took me to a concert of works by a Ukrainian composer. I had never heard of him but I really enjoyed the music. I would classify it in a genresimilar to Beethoven. The philharmonic orchestra is very professional and the concert hall is beautiful again, in the Ukrainian Baroque style.
My first week I mostly worked with the local people in helping them to develop a business plan along with a cash flow statement for the enterprise they are launching. We also began to develop many features of a marketing plan. The website, aimed at children, is named after a magazine, called Posnayko, that has been a success for them in Ukraine. After trying to come up with a better name I finally accepted the name Posnayko for the principal character (a badger) and the names Lasun (converted from Lasunchuck), Pronya and Old Crow for the other three principal animal characters.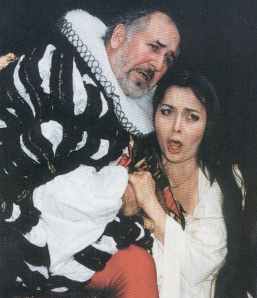 Elena took me to the opera (Rigoletto) on my second weekend. It was really well done. The young woman playing Gilda was beautiful and had a gorgeous voice. My seat was in the second row, exactly centre. I shot quite a bit of good video. Some of it was quite "in situ" with the conductor waving his hands in silouette in the foreground. The opera house is exquisite. It puts Toronto to shame. It has been restored to its 19th century glory. Of course, the style is traditional - many levels of balconies and attractively Ukrainian Baroque with much gold leaf. They have done a great job of re-building this city after it was devestated in WWII.
After the opera, we took a taxi to my apartment where Elena's husband was waiting to make sure I was not up to anything, despite my years. I was a bit concerned about entering the code to get into my building because there was no light in the doorway. Then we noticed that the door was open; so Elena left with her husband. Only when I entered the building did I notice that there were no lights in the hallway. I felt my way along the utterly dark hallway to the elevator buttons. Of course, the elevators work on electricity and there was none. There was a back staircase that, if possible, was even darker than the elevator lobby. I had used this staircase a couple of times but now could not remember exactly where the stairs started. I poked around with my umbrella, discovered them and followed the balustrade. My apartment was on the third floor but I couldn't remember whether they count floors starting with "one" or "ground". I took a chance that it started with "one". I was quite concerned, having found what should have been my apartment that when someone heard my key in the lock he (being a monster, ape-like creature) would come charging out the door at the intruder. I had plans for a quick retreat into the pitch black hall and figured, being invisible, I had as good a chance to escape as he had to catch me. Well, it was not so exciting after all. The key fit; so, with a relief that was almost palpable, I entered. I tried various light switches. Naturally none worked. Of course all the lights came on and woke me up about 3 AM. Anyway, all's well that ends in a good night's sleep.
I went to the Canadian Embassy's Canada Day celebrations. Not as big a crowd as they expected. Apparently, other years they have held a barbecue in the afternoon of July 1st, and people could bring their children and have a nice afternoon. This year it was an old-fashioned cocktail party on the 18th of June. Of course it worked out well for me because I wouldn't have been there on July 1st. It ran from 7:30 to 9 PM. My host has a fleet of cars with drivers; so my driver was waiting for me. I could get used to this lifestyle.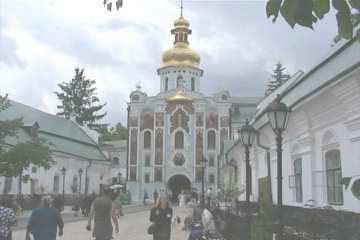 A number of the young women had the opportunity to practice their English with me and I had the advantage of envious stares. Olga took me to the Mikhailovsky Gold-Domed Monastery. This dates back to the 11th century and is extensive. A half-day is not really long enough to see everything. Probably each century saw at least one major church built. One of the main features is deep caves where monks used to live out their lives. A number of them are buried where they lived. It is rather eerie walking by the light of a taper in a narrow corridor, with people stopping to kiss the graves of various saints along the way.
Two nights before I left, my host Yevgen Yukhnytsya, took me to a farewell dinner. Actually, he took me and Sal Nensi, another Canadian whom I had arranged for the company to hire to head up the North American sales operation. Sal and I each were assigned an attractive young woman as our personal interpreters. You might think that was the most interesting part. That was only the beginning. Yevgen introduced us to the Slavic style of offering toasts. This involves a small round of pork fat; you slice off a bit to put on your tongue to provide some lining for the stomach for the vodka. The vodka, which tastes better and better as the evening wears on, is in a small shot glass. It is not seemly to take only a sip. Being hospitable, as was Sal, we knocked the vodka back with aplomb for toast after toast. After all, we had to hold up the honour of Canada! It was a friendly evening, with singing, dancing and traditional Ukrainian food. Oh, yes, we did eat a great meal, although my memory faded towards the end of the evening. I remember, vaguely, getting home. Sal had no recollection of it at all. The next day at work was not one of my best, especially since, first thing in the morning, I had arranged to lead a session on developing a marketing slogan for the company. The other participants came up with a good slogan, in my estimation: The World Wide Way to Fun & Discovery. We did have an evening of fun and discovery. Maybe it was the pork fat!
I continued from Toronto to help get this project off the ground. I believe it has great potential, not just as a business enterprise but as a website that will genuinely help children to learn while enjoying the process. The site is designed to complement school work. There is no advertising. (Parents pay a subscription.) The graphics and animations are outstanding. The stories are creative. We have hired a professional Canadian children's editor to make sure the English text is accurate and suitable for the target age group (5 to 8). There are no links to suspect sites or chat rooms. Children who have enrolled can communicate with Posnayko by email. These are just some of the features.