Frank O'Hara in St. Lucia, March/April, 2000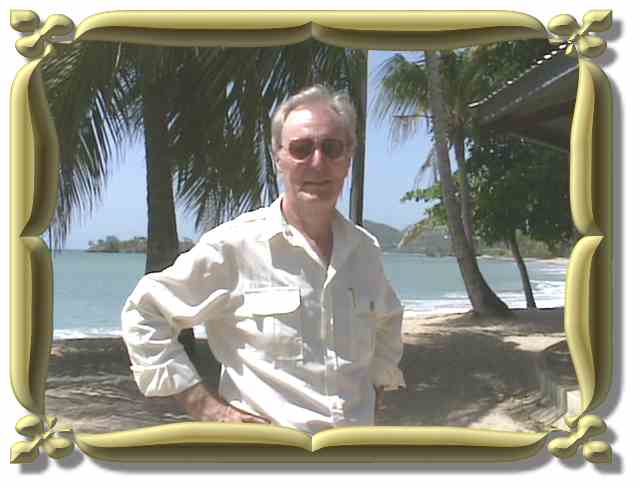 The town of Vieux-Fort, where I worked, is at the extreme south end of the island. (They give Vieux-Fort a French/English pronunciation, sounding the last letter in Fort.) This island was settled by the French and most of the towns retain their original names but often with English pronunciation. I couldn't pick up anything from hearing people speak the local Creole, although I did detect a legitimate French word here and there. The island was actually ceded to the English in 1814.
For the final four weeks of my six weeks' stint I had the use of a quite nice house overlooking the countryside and the ocean. It was roomy with a living/dining room, kitchen, two bedrooms and three bathrooms plus a 40 ft. long balcony, wide enough to do my Tai-Chi. Looking from the living-dining room, I could see from the French doors of the living room a stunning view, with sun shining across the red tiles of the balcony, leading on to waving palm trees, with the sun glinting across the fronds. Beyond was the blue ocean, again with the sun dancing on the waves. A stimulating sight.
I didn't have much opportunity for sight seeing but enjoyed swimming in the ocean. (There was a small entirely private beach very close to my house.) I visited a bubbling volcano crater. Fortunately, this island is not eruption prone like Montserrat.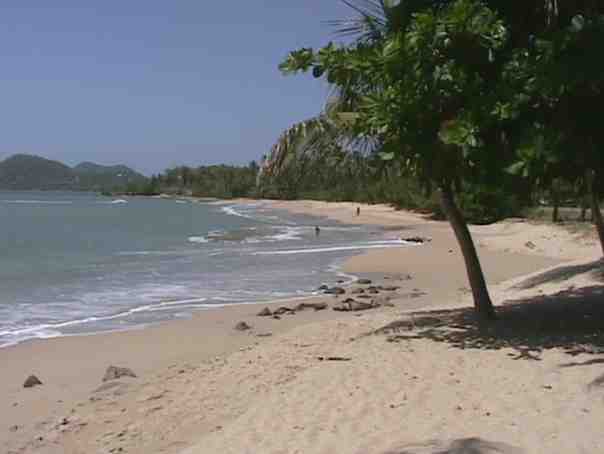 I arose each morning about 6 AM because it is very bright and the birds, crickets, etc. made a lot of racket. No need for an alarm clock. The air is nice and fresh coming in from the ocean. There is a pleasant breeze during the day but it dies down at night. I had a large fan in my bedroom but only used it a few times. I guess I got used to the tropics.
I had the use of an almost new Nissan, quite nice with excellent air conditioning - not a luxury in that country. The roads are quite a challenge. They are narrow, with many hair pin turns, often pot-holed and have steep culverts that are worrisome when meeting a large vehicle. Animals feed along the roads and people walk along the edge, quite oblivious to the traffic that misses them by mere inches.
I helped my host Thomas Roserie's company (one of a number that he owns) to launch a franchise to develop web sites in St. Lucia. He also has the master franchise for the Caribbean. (By coincidence the franchise company, Worldsites, is a Toronto company.) I (not so humbly) believe I did a good job. I organized things so that his inexperienced sales person has a track to follow. For example, I designed a quotation form that lists the elements of doing a web site with a price for each element. When the sales person enters the quantity the form automatically performs the extension(s) and displays totals. Also, if the sales person doesn't know or needs to explain some feature to a prospect a click on the word or phrase brings up an explanation. I also developed templates for common website applications, such as hotels. I trained two technical staff in such things as optimizing web sites for search engines and understanding Internet terms. The people in St. Lucia are supposed to sell the contract, accumulate and organize all the information to send to Toronto where Worldsites has a staff of programmers, graphic artists, etc. to complete the site and where the site is hosted.
My third week I gave a talk to the local Rotary club, made about eight sales calls and got a couple of verbal orders (no, not "get out" and "stay out").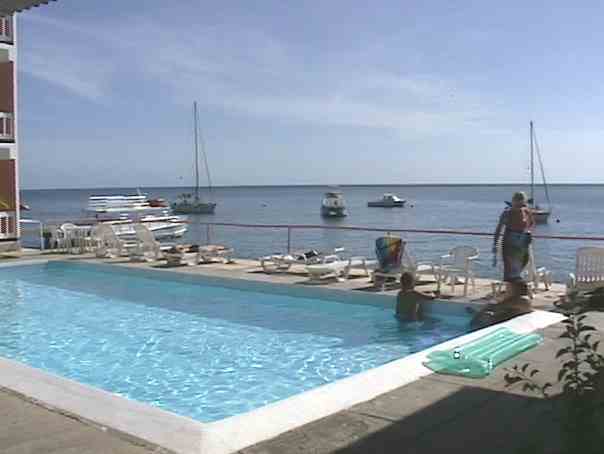 In my fourth week I accompanied my host to Dominica and Antigua to see if we could sell some franchises. We spent two days on each island as part of an inter-island trade mission. It was interesting seeing the other islands but my time would have been better spent in St. Lucia, as it turned out. (BTW - the roads in Dominica are even narrower than in St. Lucia, about the width of ONE side of a county road in Canada and they're just as twisty as those in St. Lucia. One car often has to pull off onto the shoulder to let the other pass. It is probably quite a treat for Formula 1 drivers. However, I'm not one of them..
The following week I gave a seminar in Castries, the capital of St. Lucia. We hoped to attract 30 and hopefully as many as 40 attendees but felt the realistic figure would probably be less than thirty. After all there are only 150,000 people on the island. We ran ads in the local week end papers and were amazed at the response. We had to add an afternoon seminar. In the morning seminar 71 turned up and several had to stand. For the afternoon session we had 42. I designed an evaluation form (really a prospect qualifier) and 24 said they wanted either to create a new website or re-do an existing one "right away" and 29 wanted to do so within three months. My host was delighted. He had a good digital projector and I prepared a PowerPoint presentation – with links to example sites. It helped us to give a quite professional performance.
One thing, my driving prowess improved dramatically. Lot's of practice avoiding pedestrians, goats and cows on the twisty, narrow bumpy roads. I became almost confident that when I turned a corner that I would remain on what we consider the WRONG side of the road. A couple of times, though, I entered the car and was surprised and chagrined not to find a steering wheel. And I thought I was a flexible thinker! It seems that a good deal more of the time than I realized I'm on autopilot. You wouldn't believe the number of times I turned on the windshield wipers when I wanted to indicate a turn.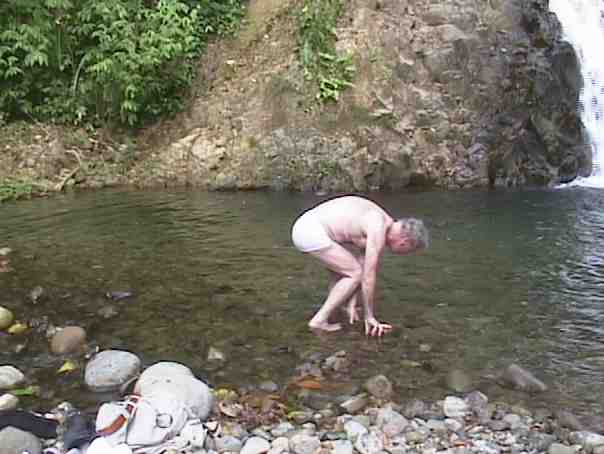 On Easter Monday I went about 40 miles on a very pot-holed road with the intent of trekking through the rain forest to a waterfall reputed to be worthwhile seeing. The instructions to reach the waterfall were to drive along a back road until it became impassible and then walk over an hour along a trail to the waterfall. Their description of an impassible road is not the same as mine. I left the car far too soon and had to walk for about 1 1/2 hours, and most of it up hill, before I came to a place where several cars were parked and the road became a rugged trail. Another hour or so took me to the waterfall. It was very picturesque and I had a refreshing swim but I was pooped for the return walk. A serious hike in the heat and humidity of a rain forest is not for the faint of heart. On the way back to where I should have driven my car, all by myself in the jungle, I turned to see a dispicable looking many muttering to himself and walking faster than I could muster. I decided that I would pretend that I was unconcerned when he caught up with me. So when he did I gave him a hearty and friendly "hello". He responded, "Good afternoon, sir." and carried right on past me.
That's me at the nice refreshing pool - being very careful with the slippery rocks.
Fortunately, at the waterfall, I had met a couple who had driven their car the proper distance. They offered to assist this poor unfortunate overheated and exhausted Canadian. They were waiting for me. They found it amusing, my idea of an impassable road, and that I had left the car where I did. I was glad to suffer the indignity in exchange for the ride.
On the way back to Vieux Fort I had intended to stop at a place where the coral reef is reputed to be the best for viewing on the island. I didn't have time to go snorkeling though. Night falls (like a collapsing tent) at 6:15 PM.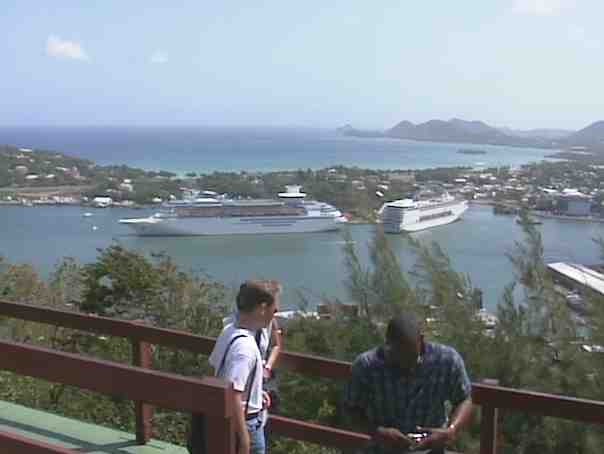 The next day, I headed north to Castries, over an hour's drive. I spent a couple of days and had a number of very interesting and successful meetings with prospects from the seminar and was able to pass along some know-how to the local sales person. (Darnley, the sales person, is called an Internet consultant. I was an Internet expert, since an expert is defined as an SOB from out of town.)
In this picture you'll see a couple of cruise ships in Castries' harbour. In the days of sailing ships, this harbour was valued as one of the safest in the Caribbean in the event of a hurricane.
BTW - A St. Lucian told me a 'Canadian' joke. A cat was chasing a couple of Canadian chickens. One of the chickens stopped and, turning to the cat, barked "Bow wow". The cat fled in disarray. At this point the barking chicken said to the other, "See, I told you being bilingual would come in handy some day."
A final note
It's certainly a privilege and a pleasure to visit foreign countries and, in particular, a pleasant place like St. Lucia and it is rewarding to assist people who need and appreciate it. However, it's nice to head home too. I relish my Toronto routine: CBC radio, TVOntario, good roads, The Globe & Mail, customary food, a car with the steering wheel on the right (i.e. left) side, good friends and the woman in my life (not in that order).